***note*** While my page is mainly dedicated to all things related to destination weddings, honeymoon and romance travel, I do have a family and we enjoy going on a variety of different trips and vacations. Here's a review of our first family vacation together in 2020 – enjoy!
So it's summer 2020 and we've had a lot of time at home, reflecting on our lives, on the state of the world…truly, a LOT of time. Like so many people, our summer plans were put on ice and with 3 kids we really were itching to get out of dodge, even for just a day or two. Somewhere we could drive from our house would be perfect. But what's available? Then the light bulb went off in my head…water rafting! My husband and I love water rafting. Our girls (ages 9 and 12) love water rafting and we think our son (age 6) will also love water rafting. We called our favorite water rafting company American Whitewater Expeditions (we rafted several times down the South Fork of the American River, whenever one of our kids is old enough to go and we've always stayed at this campground and rafted with their guides) and YES! They are open for business!! Score!!! I was literally doing a happy dance in my kitchen. I called my mom to see if she wanted to go and my mom without hesitation said absolutely yes! Now my mom has never camped a day in her life. But since my father passed away a year ago (Z"L) she wants to be able to do things that she really wasn't able to when she was having to basically be my dad's full time caretaker. Which is a story for another blog post. But here was an opportunity to spend time with her darling grandchildren 😉 and no way was she going to pass it up! Our last call was to our good friends Phil and Danielle and their two boys, who also thought the idea of water rafting sounded fabulous and the perfect outing that is easy to socially distance as much as possible, but still have something to be excited about.
We've used American Whitewater Expeditions for our river rafting trips down the South Fork of the American River. They have great service, a campground that was included in our stay and their guides are great. American Whitewater Expeditions (A.W.E.) are located in Coloma, aka Gold Country. In fact if you have time (and it's not too hot) a great side trip is to visit Sutter's Mill, the famous site where gold was found, setting off the Gold Rush, a major event in California's state history and the United States. In the Bay Area many 4th graders will visit Coloma to learn more about our state's history. For those of us living in the Bay Area, it's an easy drive to Coloma (for us living in the East Bay it was 2 hours, if you're in the South Bay or SF it might be more like 2 ½ -3 hours).
Camp Coloma's welcome sign (giant anchor?) greets you as you enter the campground
Depending on the type of river rafting trip you do with A.W.E., they will provide you your own campsite the night before you raft (or for however many days you raft; we did a 1 day trip but they also offer multi day) and we were also included tents and sleeping pads. This is a big plus for us since it's one less thing to pack, put together and take apart. Especially since the morning we raft we need to be ready and packed up by 8:30am!
Our camping site, with tents and pads supplied by A.W.E. – camping chairs were ours. Go Blue!
We drove up on a Sunday afternoon and got to the campsite by 4pm. Our friends happened to arrive just a few minutes after us. Checking in was a breeze. There are clear marked stickers on the floor to keep everyone socially distanced, but there wasn't anyone else registering when I was so I got in and out really quickly. There is plexiglass set up to keep us from breathing on the employees who are super friendly and got me a map to show me exactly how to get to our campsite. All the sites are close to a full bathroom. Not every site is right next to a bathroom with showers but it's an easy walk to one if you need to get cleaned up after a long day of rafting. There are signs everywhere that if you go inside the registration office you need to wear a mask and everyone was compliant. I think we were all so happy to be out and doing something fun that no one wants to mess it up and create a scenario where A.W.E. would need to be shut down.
Keeping common areas clean such as the bathrooms were a huge priority. I've never seen them cleaner.
One of our favorite parts of this facility is they have a pool! We drove to our campsite, dropped off our stuff, got into our bathing suits and the kids got right into the pool. There were a couple of families there and everyone pretty much were friendly, but kept to their own bubbles, as it were. The kids were having a great time swimming and playing in the water and definitely we in no hurry to get out to go back to the campsite. It was also HOT, and just made more sense to eat dinner at the picnic tables by the pool. Now A.W.E. does offer the option to buy a hot dinner in their dining area but we brought our camping gear to cook dinner ourselves. Not wanting to make anything complicated Danielle and I went back to the campsite, brought out my trust camping stove and heated up hot dogs. Phil had made homemade guacamole (YUM), tortilla chips, carrots and delicious watermelon and you have a campout dinner of champions. Delicious!
Me and my mom – and the pool! Love that pool. Especially when it was approx 1000F outside. We brought our dinner so we could enjoy our meal poolside!
By 7pm we felt we should get the kids back to the campsite, so we changed out of our swim wear (which was hung up to dry since we'd be wearing it tomorrow – I'm a fan of packing "efficiently" for trips like these) and since we still had plenty of daylight we brought out a board game we could all play together. We're big fans of Family Trivial Pursuit. You can play teams if you have more people than pieces, and there are adult questions and kid questions. After the game it was time for dessert, so we brought out the Herhshey's chocolate, marshmallows and graham crackers to make s'mores and we all went to town. For me S'mores are the perfect dessert for camping. I've tried several different camp themed desserts (campfire cones, dutch oven desserts) and I come back to S'mores everytime. There's just something about chocolate, marshmallows and graham crackers that say "camping" to me.
S'mores – my most favorite camping dessert! Nothing better than s'mores while camping – except maybe two s'mores 😉
The heat was finally cooling down as the evening went on and while the kids went to bed around 9ish, us adults stayed up to chat until we were sufficiently tired enough to be okay with sleeping on the ground (albeit with a sleeping pad). I knew my one night of sleeping on the ground wasn't going to be the best, but cie la vie. A.W.E. has a strict quiet time starting at 10pm and everyone was very respectful. New to their campsite: Decent cell phone service! Not that I am on my phone a lot since we're camping but I like to unwind before I go to sleep so I was able to watch some mindless videos on YouTube before drifting off. It usually takes me at least 2-3 days of camping to finally get a decent night of sleep, but that's ok. Sleep is for the weak, so I'm told. Thankfully all the kids slept through the night without incidence and my mom, who has never slept a night in a tent in her life loved it! I lent her my cot and between that and the sleeping she said it worked out really well.
Someone was supposed to be getting ready who suspiciously looks like he is just fooling around in his tent instead

The next morning we made an easy breakfast of bagels and cream cheese fruit and coffee (coffee being for the adults). A.W.E. also offers a hot breakfast for $10/person, but we aren't big eaters in the morning so we just decided to bring our own. After breaking down our campsite (not too difficult since A.W.E. provided the tents) and packing up all our gear (if you're not spending another night at their facility you need to be packed up before heading out to raft- but they have plenty of parking by their registration office), we were suncreened up and ready to go! What are you allowed to bring on the raft? The answer is – not much. It's a 25ish minute bus ride from the campsite to the starting point so you can only bring what you can carry onto the raft. The river guide has a small dry bag that I put a few snacks for the kids (it's a long time between breakfast and lunch and I learned the hard way they need a snack in between while we're rafting), and we brought water bottles and spray sunscreen. I prefer to use a cream based sunscreen, but we need to reapply and it's too difficult to use the cream-based while on the raft. The spray makes more sense. The guides outfit you with the proper size PFD (lifevest) helmet and oar. We all were wearing our rash guards and I think next year I'm going to invest in board shorts. The top of my thighs got pretty red even though I must have reapplied at least 3 different times!
Gearing up before we head to the bus
A look at our 5 star coach to the riverhead 😉 If you need A/C just poke your head out the window har har
On the 20ish minute bus ride from Camp Coloma to our start on the river. Everyone was wearing their mask and everyone was very excited to go rafting!
Another post-lockdown precaution – everyone wears their facemask on the bus (you keep it in the dry bag while on the water – a wet mask isn't going to be very useful lol). Once you get to the start of where you raft, there's a porta potty for that last minute need, and your guide double checks all your gear to make sure it's fitting properly. We get a few minutes of safety instruction and then we're off!
Where you begin the full 21 mile South Fork river run
Riding the rapids at the beginning of our rafting trip
There are both half days and full days options for the South Fork and we decided on the full 21 miles. The view on the river is just gorgeous. I really love the opportunity rafting gives you to see nature in all its glory. Also it was 100F degrees outside so that water is…refreshing. Yeah refreshing is a good word to describe it. Some might say REALLY FREAKING COLD, and some might shriek every time the rapids crash onto her and some might even say it seemed like the river guide was intentionally seeing how loud she could shriek, but I digress. Speaking of river guides, if you come across Horatio from Costa Rica, know that you have a PHENOMENAL river guide and tell him that Arielle and her family say hi!! He was the best. Super funny, really engaging and kept us entertained the whole way down the river. He knew when the kids could jump out of the boat to swim around and even float down some of the rapids (feet first!)
Our awesome river guide Horatio
I would divide the river into two parts: Before Lunch and After Lunch. The ride down the river Before Lunch is longer than the ride down the river After Lunch, so just look for a calm time while rafting to fish out some granola bars for the kids because if they are anything like mine they will really need something to tide them over before we make it to the lunch spot. PRO TIP: Pack granola/energy bars that won't melt. I made the mistake of bringing chocolate chip granola bars and they were extremely melty. Still tasty but a bit of a mess. We brought plenty of water on the raft but Horotio was also kind enough to bring extra water bottles just in case.
Delicious wraps for lunch. Lots of options for everyone, including vegetarians and vegans. Everyone wore masks and socially distanced as much as possible
Roaring down the rapids – good thing it's 100F outside because that water is COLD
The South Fork of the American River is a class II-III. Perfect river rafting trip for a first timer (and more importantly our youngest son at 6 is old enough to go. Most other categories you need to be 12+). Speaking of first timers, my mom had never camped before let alone river rafted and she absolutely LOVED it. To quote my mom "it was phenomenal, amazing and FUN!! A nice roller coaster with waves but not too scary. I can't wait to go again!". Watching for birds, and the water glistening from the sun. Watching my kids jump off some really high rocks! I might have told my oldest I'd give her $1 to jump off the high rock and she might have met the challenge 😉 Personally for myself I'm a class III-IV type of girl. I've done 5+ which in my expert opinion is way too scary for your humble travel blogger and travel advisor. But with my kids I'm happy to do a less intense one and one day they'll be old enough to go on some more high class rafting adventures.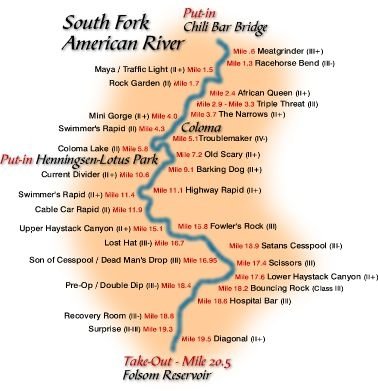 Here's a map of the full 21 miles of river we rafted on the South Fork of the American River
Lunch was off a great little beach where the kids could splash around in the water while the river guides got lunch prepared. Lunchtime cleanliness post-lockdown was taken VERY seriously. Everyone wears a mask, and there are not one but TWO washing stations. Families naturally socially distanced while eating lunch and bottom Lunch was wraps, there's deli meat (turkey or ham) and hummus, and even PB&J. Each family receives their own container of pringles and for dessert the guides brought out homemade chocolate chip cookies. There's nothing much better than homemade chocolate chip cookies after several hours of rafting!
The family that adventures together, stays together
After a 45 minute stop we're back on the river for another couple of hours. Lots of rapids in the 2nd half, lots of excitement and lots of opportunities to get drenched. You finish your journey at Folsom lake and are towed to shore by hooking all the rafts together to a few jet skis. Back on the bus and between exhaustion and the masks it's a very quick and quiet 20 minute drive. As a nice little treat they have ice cold soda and bottled water waiting for us at the facility. We drop off all our gear and then you have the opportunity to shower and change. If you want you can also purchase photos that were taken of you while you were on the river. The photographers did a great job, it's a pretty reasonable price for around 80+ shots and since it was my mom and son's first time we figured we would splurge. As we're only two hours from our home we elected to just get back on the road and had a nice (outdoor) dinner at an In n Out in Folsom before making it home, exhausted but happy to have a nice little adventure this summer.
Have you been water rafting before? What's your favorite part?
Are you looking for an adventure to go on? I would love to help you! Click here to get started!!